Home > Swing Analysis at TWU
Swing Analysis at TWU Biomechanics & Motor Behavior Laboratory
---
Welcome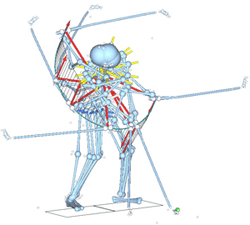 Biomechanics & Motor Behavior (BMB) Laboratory at Texas Woman¡¯s University currently provides swing analysis services primarily to elite golfers (professional golfers and competitive amateur golfers). Swing analysis at TWU is based on our research findings and provides an in-depth analysis of your swing.
A 10-camera optical motion capture system operating at 1,000 Hz and two 3-dimensional force plates are used for swing trial capture, and Kwon3D Motion Analysis Suite is used for data analysis and report generation.
To schedule a swing analysis session, please contact Dr. Kwon.
Motion Capture Attire
To minimize the marker movements on the skin/clothes (marker motion artifacts), we require the following motion capture attire:
Men must wear spandex shorts. You will be asked to take off your shirt. If you do not have your own shorts, you may use ours.
Ladies must wear spandex shorts and either sports bra (preferred) or sleeveless spandex shirt. Please bring your own spandex.
We enforce these clothing requirements to assure accurate motion capture and analysis.
IMPORTANT: Refrain from wearing lotion on the body as it affects the adhesiveness of the double-sided tape used to fix markers on the body. Markers may fall off during the swing capture due to the lotion applied.
Since force plates are covered with artificial turfs that provide sufficient traction, you may wear your golf shoes or sneakers. In case of sneakers, avoid those with reflective emblems/tapes as shiny tapes can cause issues in the marker labeling process.
Clubs
Bring your clubs. Our standard swing analysis includes three club conditions: driver, iron (5-iron for men and 6-iron for ladies), and wedge (pitching wedge). Additional clubs may be added depending on your specific needs. It may be a good idea to bring the whole bag.
Time Requrements
A typical motion capture session (7 trials per club condition * three club conditions) will take approximately 45 min. including marker placement and trial capture. A total of 65 retro-reflective markers will be placed on your body, club, and the ball mat. In addition, data processing (marker labeling) will take about 20 min. Allow 1.5 to 2 hours for going over the analyzed data. The overall duration of a round of swing analysis, therefore, is about 3 hours.
Since TWU-Denton is located about 30 min from DFW (Dallas-Fort Worth) International Airport or 40 min from DAL (Dallas Love Field), you may arrive in Dallas in the morning and leave on the same day in the late afternoon.
Analysis Areas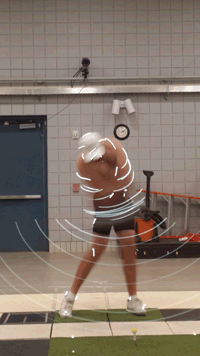 Typical swing analysis covers the following areas:
Detailed stick figure representation of the swing
Postures at various swing events
Functional swing plane analysis
Motion planes of the mid-hand point and upper body joints
Ground reaction force and moment
Torques generated through the foot-ground interaction (GRF torque and pivoting torque)
Center of mass motion
Linear and angular motions of the pelvis
Kinematic sequence
Mid-hand force and torque
A report and select stick figure animations will be provided after all trials are fully processed.
Some useful drills will be suggested during the feedback session so it is ideal to come with your coach. Junior golfers must be accompanied by a parent or a coach.
Cost
$500 will be charged to professionals/adults and $300 to students (college and junior players) in the form of donations to the University. These donations will be used as scholarships for our students.
Directions to TWU-Denton
TWU-Denton is located in Denton, Texas, about 30 min north of Dallas, Texas. Please do not be confused with our Dallas campus (TWU-Dallas).
The closest major commuter airports are DFW (Dallas-Fort Worth) and DAL (Dallas Love Field).
Use ¡°304 Administration Dr., Denton, TX 76204¡± as the address in your navigator.
Once you arrive in Administration Drive, look for the Visitor Information Booth. Get a visitor parking permit and park your car at the visitor parking lot. If no one is in the booth, you can get a permit from TWU DPS on Administration Drive (Hubbard Hall, Lower Level, 301 Administration Drive).
Biomechanics & MB Laboratory is located in Pioneer Hall (Room 123), the red-brick gym building on N. Bell Ave. In the weekends or on weekdays if the visitor parking lot is full, you may park at the north parking lot of Pioneer Hall with a visitor permit.
For your information, TWU campuses are "smoke-free." Per Texas Woman¡¯s University¡¯s Tobacco Policy the use of tobacco products is prohibited indoors and outdoors on the Denton, Dallas and Houston campuses. This includes all facilities, student housing units and the off-site TWU Select Apartments. E-cigarettes are permitted outside TWU buildings. Visitors must comply with the university¡¯s Tobacco Policy, which is detailed here.
List of Tour Players
Men's Tours

Ladies' Tours

Long Drivers

Kiradech Aphibarnrat
Tommy Armour III
Aaron Baddeley
Lucas Bjerregaard
Mark Brooks
Ho Sung (Tora) Choi
Bryson DeChambeau
Brad Elder
Yoshinori Fujimoto
Cody Gribble
JJ Henry
Mark Hensby
Charles Howell III
Trevor Immelman
Matt Kuchar
Lucas Lee
Richard Lee
Jamie Lovemark
Ben Martin
Hideki Matsuyama
Toru Nakajima
Vijay Singh
Mads S©ªgaard
Scott Stallings
Daniel Summerhays
Poosit Supupramai
Sattaya Supupramai
Tyrone Van Aswegen
Bo Van Pelt
Grant Waite
Tim Wilkinson
YE Yang
Gyungsik Yoon
Andrew Yun

NaYeon Choi
Youngin Chun
Daniela Darquea
Julieta Granada
Caroline Inglis
Ye Sung Jun
Ji Sun Kang
Hae Rym Kim
Hye-Youn Kim
So-Young Kim 2
Sue Kim
Cheyenne Knight
Meena Lee
Mi Hyang Lee
Hee Jung Lim
Maddie McCrary
Daisy Nielsen
Yuting Shi (Seki)
Saehee Son
Jennifer Song
Marissa Steen

Will Hogue
Phillis Meti
Kimihiro Minamide
Jamie Sadlowski

+ Numerous Web.com/Challenge Tour, Symetra Tour, mini tour, collegiate, and junior players

+ Numerous teaching professionals